Congratulations! You now have your 'All The Basics' Calligraphy Kit!
Let's help you get started.
Get to know your 'ALL THE BASICS' Modern Calligraphy kit:
'Mindful Modern Calligraphy' Workbook -

Information, instructions and worksheets (fundamental strokes, alphabet, practice words + guidelines. 3 ways you can use your workbook: 

Practice directly on the workbook 

Put a sheet of practice paper over the top and trace

Use the worksheets as a reference and freehand on your practice papers. 
Moblique Penholder

- This is the tool that holds the nib. Please refer to the videos to learn how to set up and hold your penholder correctly.
Nibs

(Nikko-G + Blanzy 2552) - Nibs are what will create your calligraphy. Start with the Nikko-G and once you are more confident try the Blanzy 2552.
Jar of Sumi Ink (50ml)

- A beautiful and cost-efficient ink made from the soot of tree branches.
Reusable Bamboo Paper Towels

- Eco-friendly and biodegradable alternative to single-use paper towels, 1 towel can be reused up to 100 times. To clean simply rinse with water and let air dry. Can be used moist or dry. 
Breathe Manta Water Jar

- Perfect to use as your nib water bath to clean your nib as you practice. This jar also doubles as a reminder to 'Breathe' during your practice.
Practice Paper

- Contains the top 3 paper types that Kim recommends:

Lazer/Digital Printing Paper

Rhodia Dot Grid Paper

Peterkin Cardstock
Reflection Portfolio Folder

- A great way to both keep track of your creations and to reflect back on the progress you have made.
'Kimlligraphy' Organic Teabags

- A herbal tea blend to help calm your mind + body and to get you into the mood for calligraphy.
Hand Rolled Incense

 - With a beautiful sweet earthy scent, these incense will help to cleanse and set the mood for your zen zone along with helping you set your creative intension and relax your mind. 
'Silk & Soleil' Mini Handmade Soap Pillar

 - To help clean inky fingers and hands, you'll love the lingering scent of vanilla buttercream.
Personalized Storage Box

- Handy storage box to keep all your calligraphy supplies in one spot, makes setting up and tidying more convenient.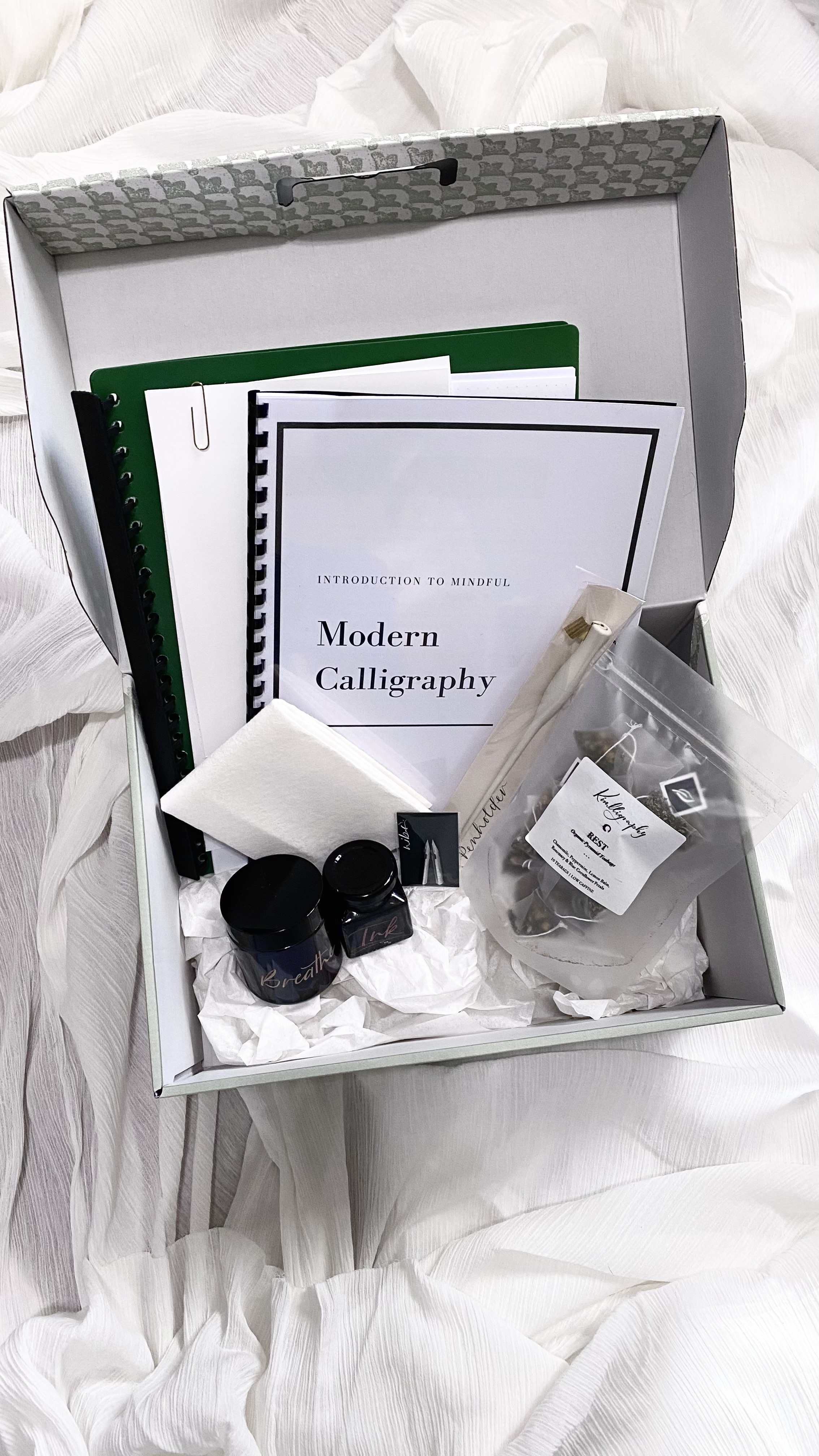 Your Training Videos Are Below!
Available in days

days after you enroll

Watch Them Now:
Want the full video course?
9 modules with over 30 video trainings
Get the 'Community package' which includes:


✅ Lifetime access to the full online course
✅ 4 x access to our fortnightly Q&A mastermind live virtual sessions to have your biggest questions answered
A Special Price For You!
Pay only $119 ($80 off)
USE THE CODE: UPGRDE
Note: This is an upgrade and does not include an extra 'All The Basics' kit. The code is strictly for those who have already purchased the 'All The Basics' kit.
Copyright © 2021 Kimlligraphy | All Rights Reserved.