You made it our ultimate offer!


The Premium Package
(CURRENTLY ONLY AVAILABLE IN AUSTRALIA & SPACES ARE LIMITED)
Everything you need to know about the pen and nib, nib placement, how to hold the pen, where you can get your supplies, etc.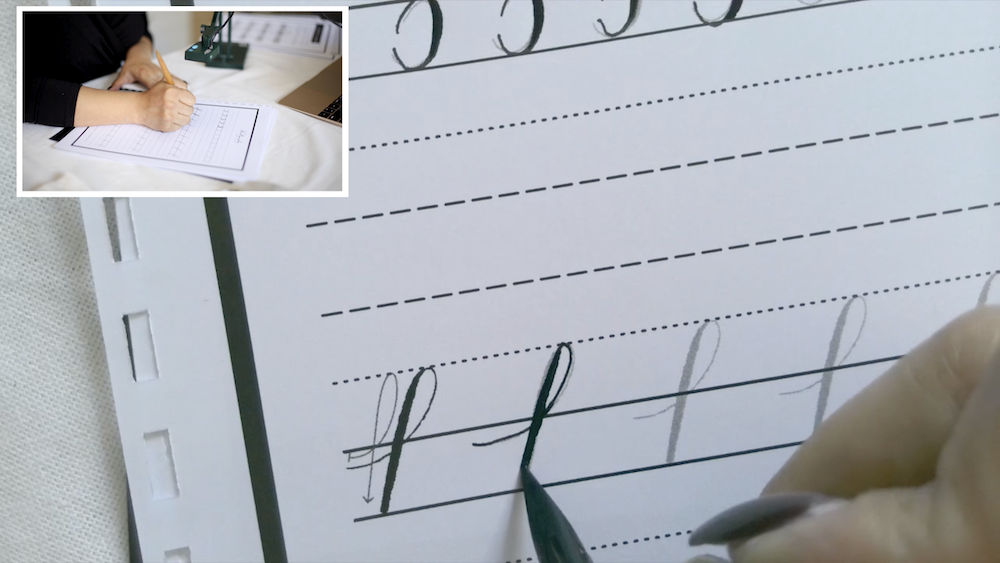 Learn how to form all the letters from a-z, letter variations and connectiing words.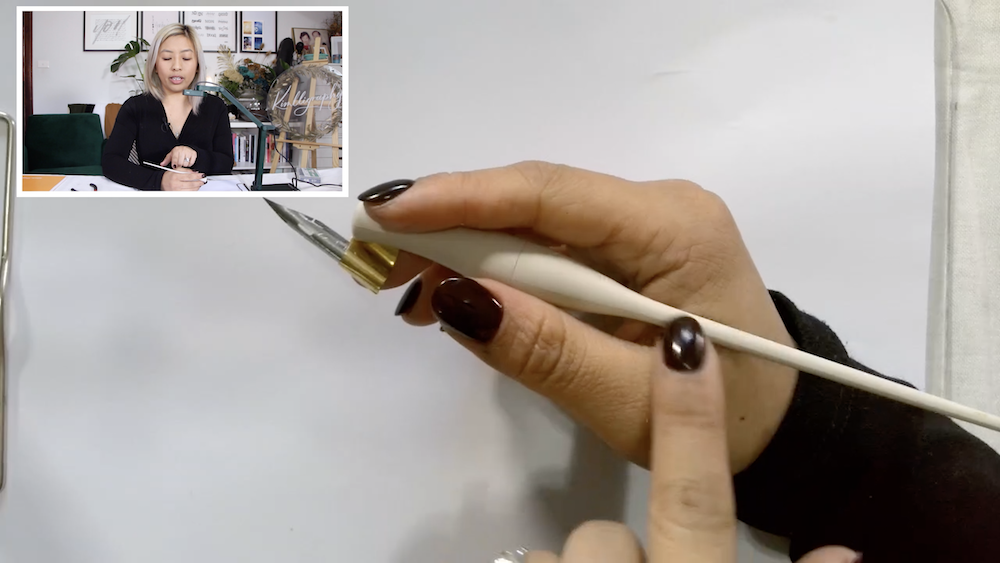 Discover how to tap into the Zen Zone, continue with your practice, receive further resources and support.
The Online Course
Lifetime access to 9 modules with over 30 video lessons that you can watch and re-watch to improve your calligraphy skills each time!
The Premium Package
Lifetime Access To Online Course.....................(Value $299)
Private Support Group 12 months access

........(Value $147)
6 x Mastermind Sessions

.....................................(Value $594)
1 x 'All The Basics' Calligraphy Kit

.............................(Value $79.95)
1 x 1:1 Virtual Coaching Session with Kim

.........(Value $250)
1 x Ticket To A Live Sydney Workshop

..............(Value $175)
Mindful Well-Being Summit Replay....................(Value $75)


Total Value: $1,620
Today's Price: $349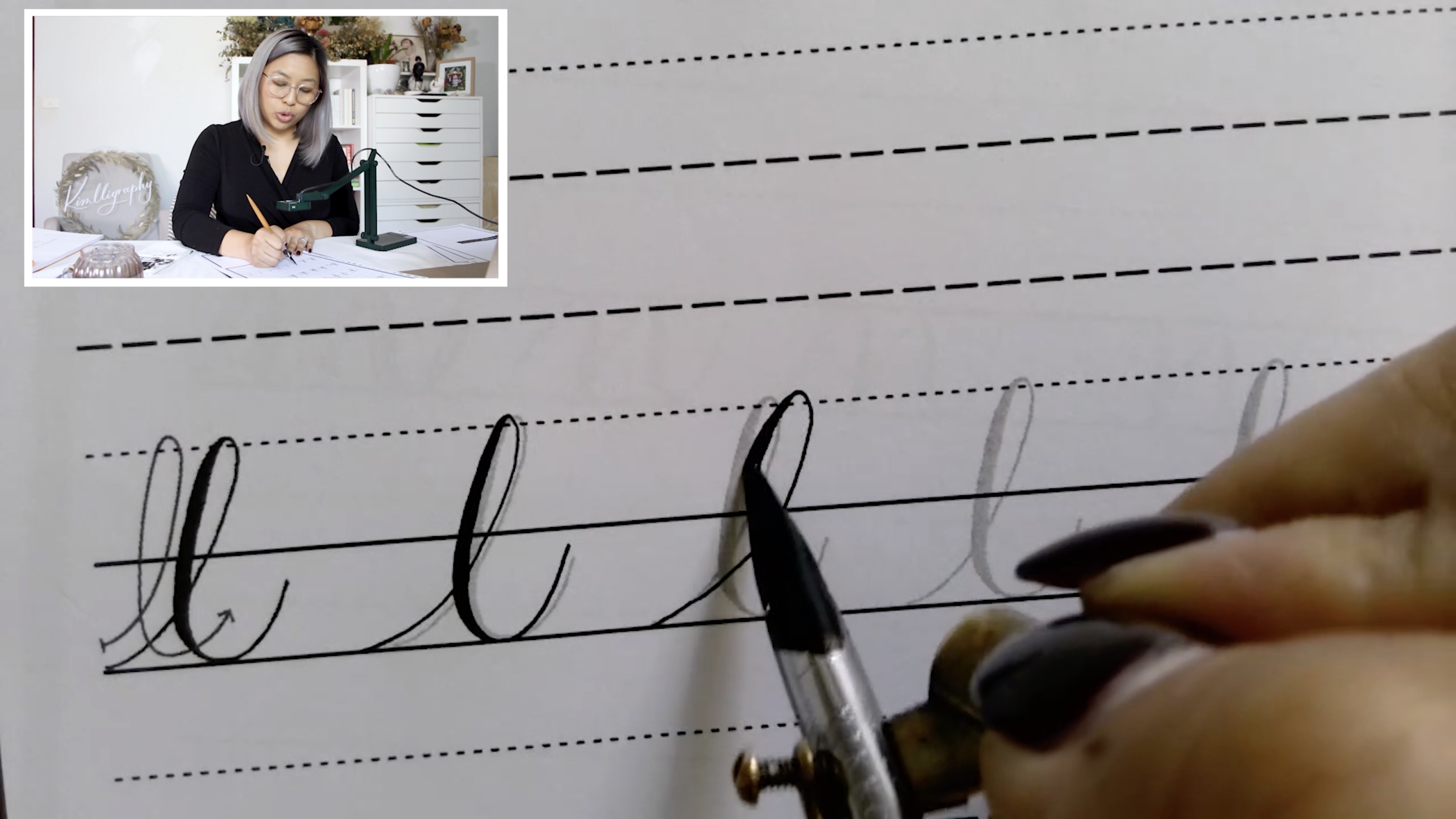 Lifetime Access to the Online Course


Includes 9 modules with over 30 video lessons that you can watch and re-watch to improve your calligraphy skills each time!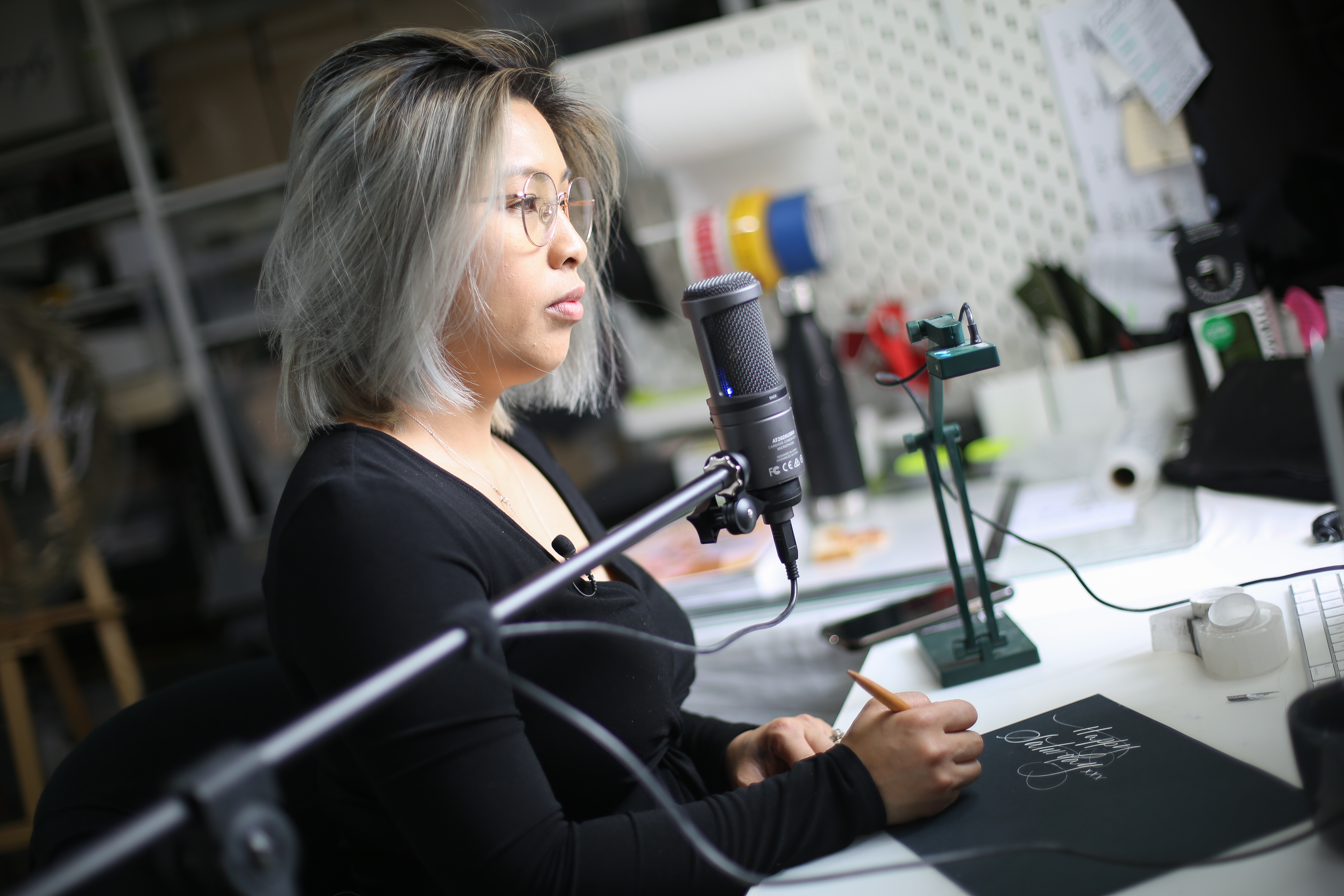 1 x 1:1 personalised 1.5hr virtual coaching session with Kim
Every individual's journey is unique. There is no better way to fast track your success than to receive one-on-one coaching from Kim herself!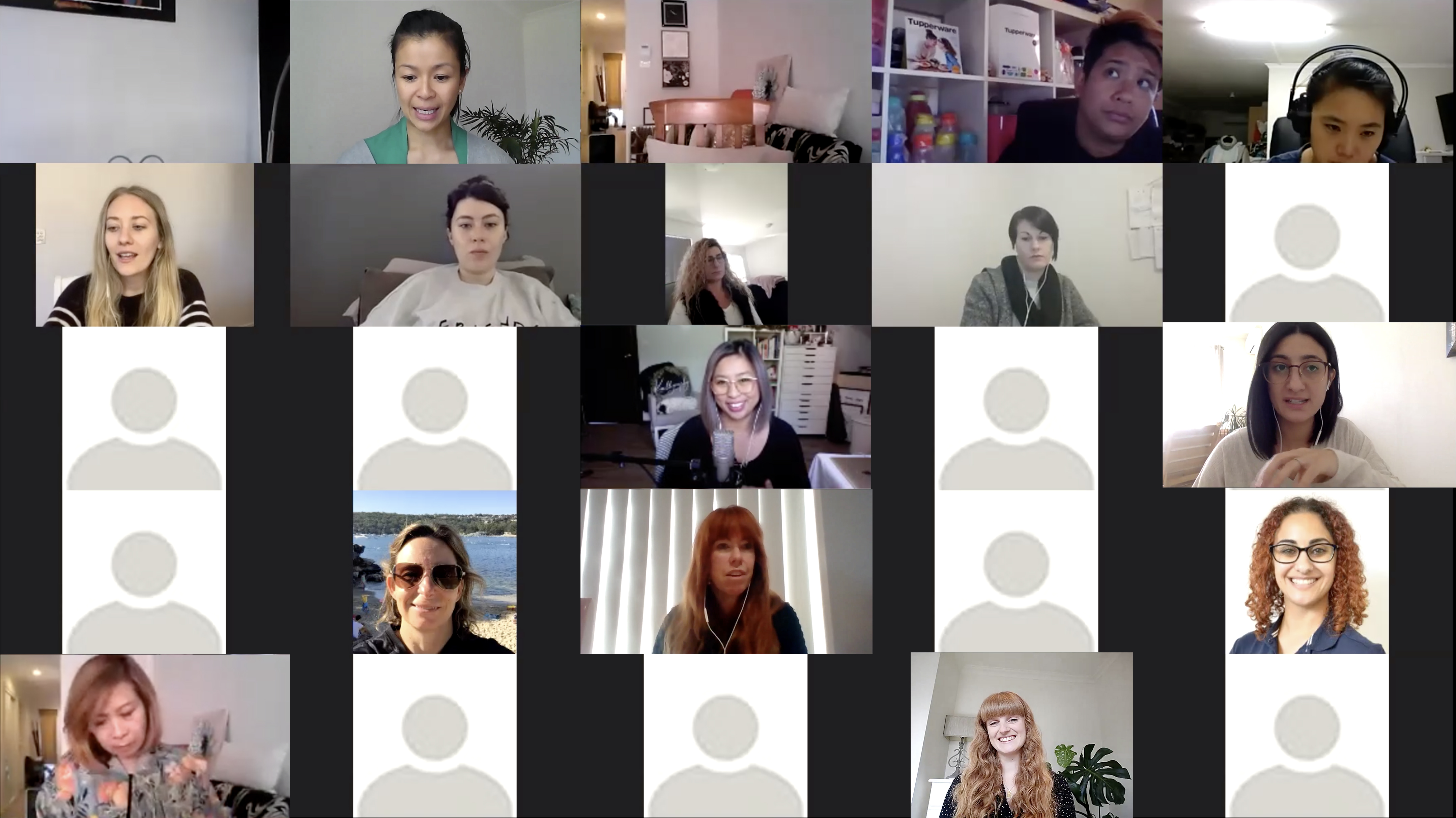 6 x 60-min Mastermind Sessions
Each fortnight, our community meet online where great tips are shared, friendships are formed and where you will have your biggest questions answered from improving your skillset to mindfulness practice exercises and business tips.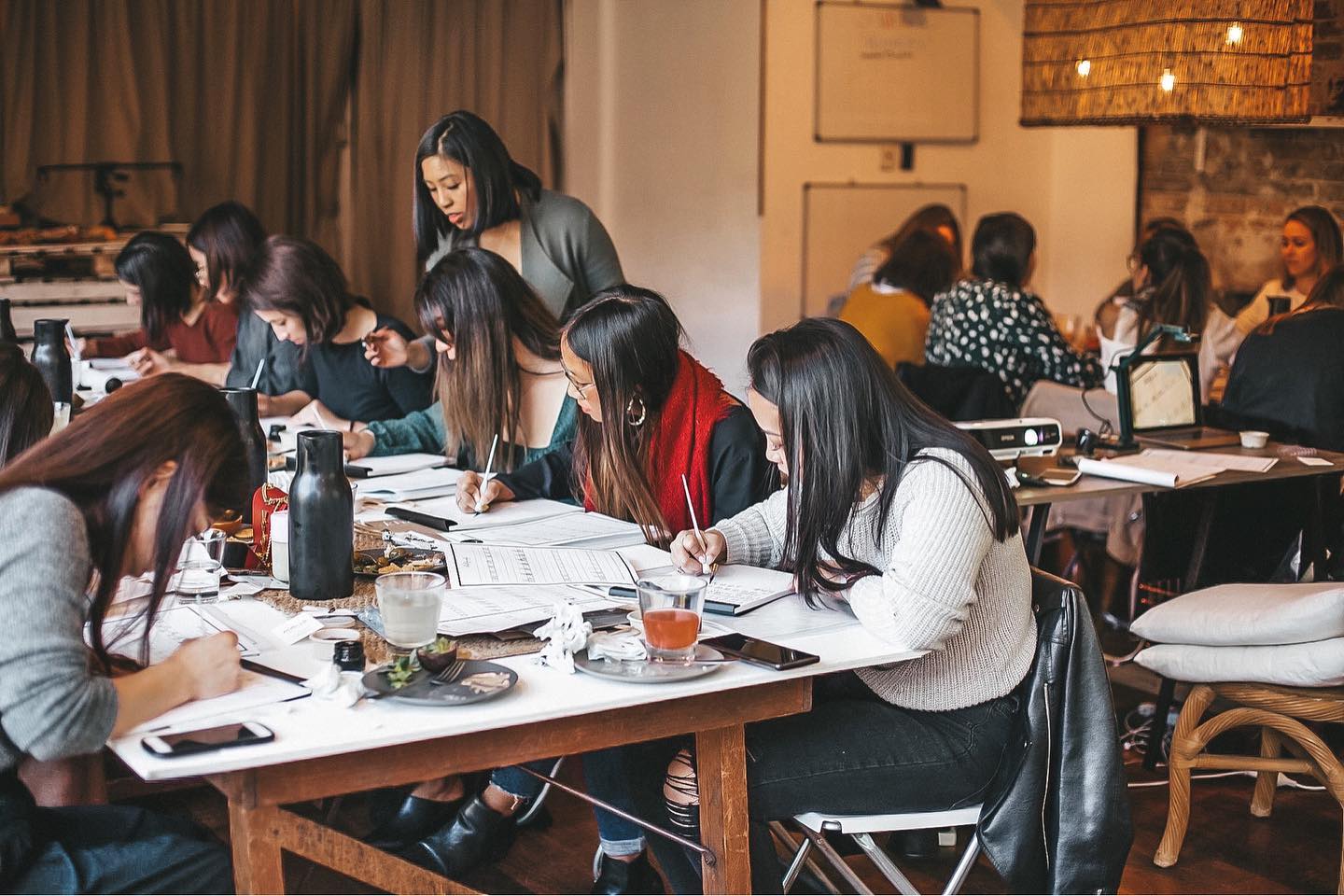 1 x ticket to a live Sydney workshop
Your own ticket to one of Kimlligraphy's Mindful Modern Calligraphy workshops in Sydney! (Flights or accomodation not included).
* If you cannot attend a Sydney workshop, this can be substituted for another 1:1 coaching session.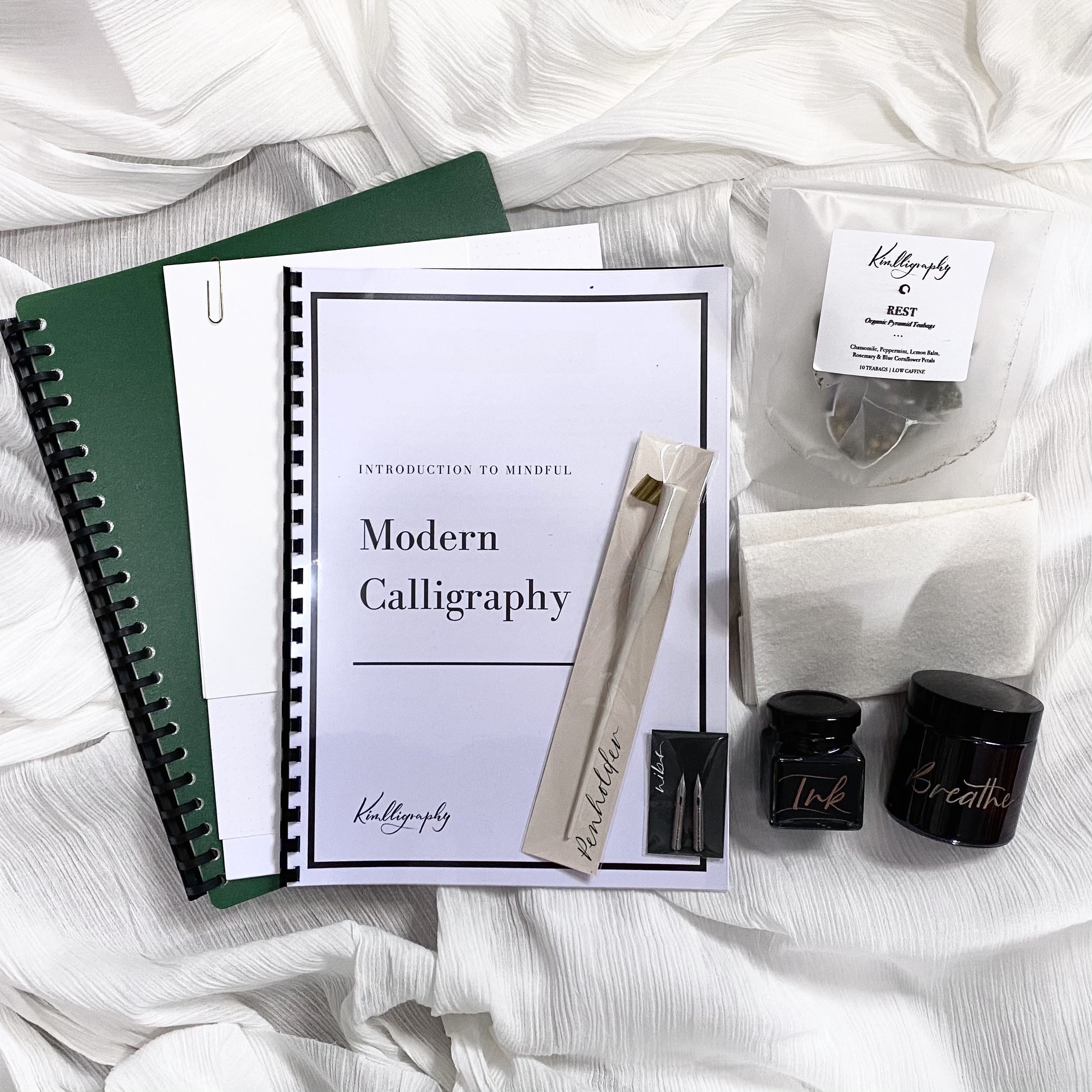 1 x 'All The Basics' Calligraphy Kit*
The essential tools to get you started will be shipped to you in a gorgeous personalised storage box which includes:
Workbook
Practice papers
Progress portfolio
Kimlligraphy organic 'rest tea'
Reusable bamboo paper towels
1 x Penholder
2 x Nibs (Nikko-G & Blanzy 2552)
1 x Sumi ink jar
1 x Breathe Mantra water jar
*Not included if you received a discount code to upgrade to the 'Premium package' after purchasing this kit on its own.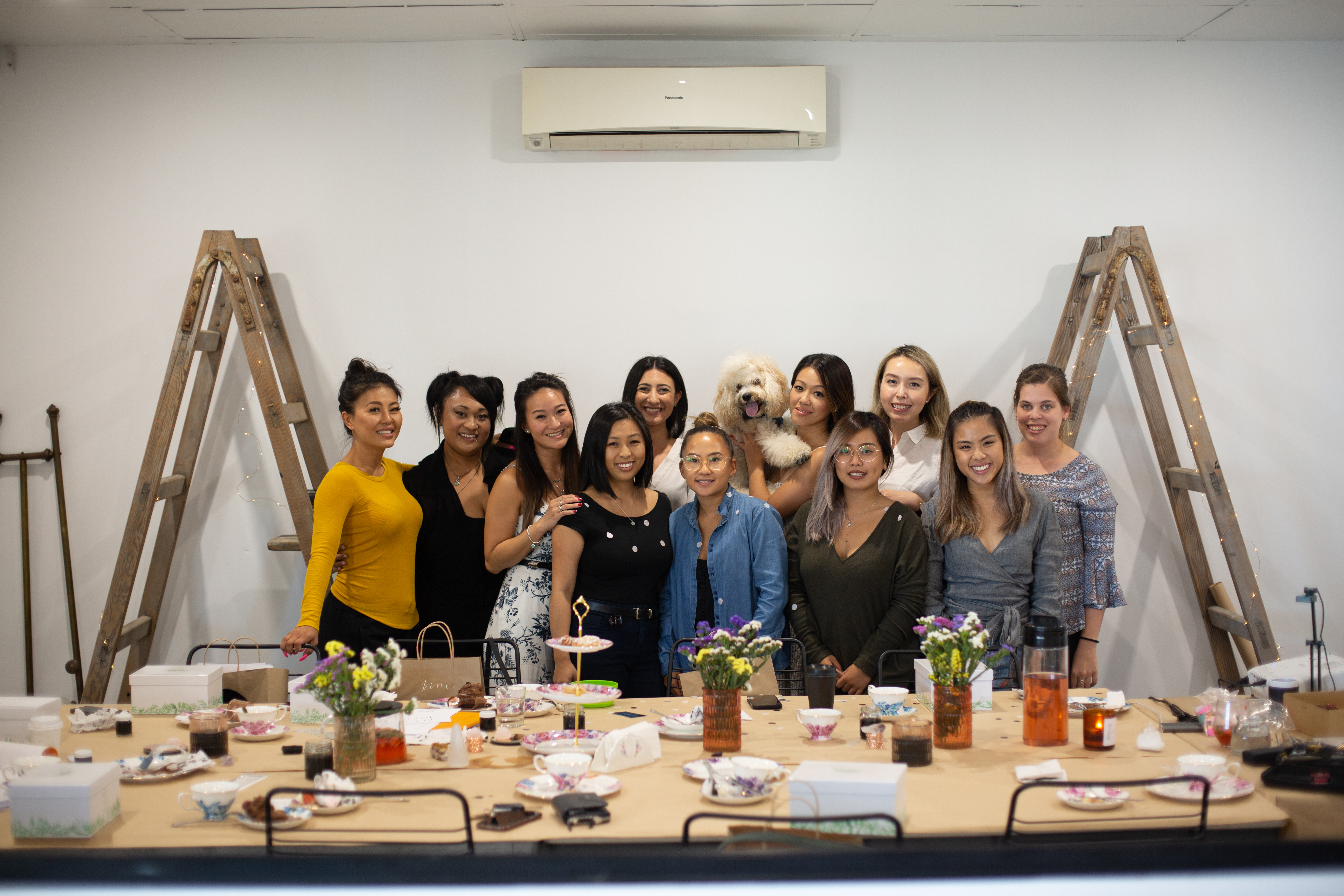 Private Accountability Support Group
12-month access to Kimlligraphy's private online Facebook group where you will receive tips, share ideas and receive feedback from Kim and the community.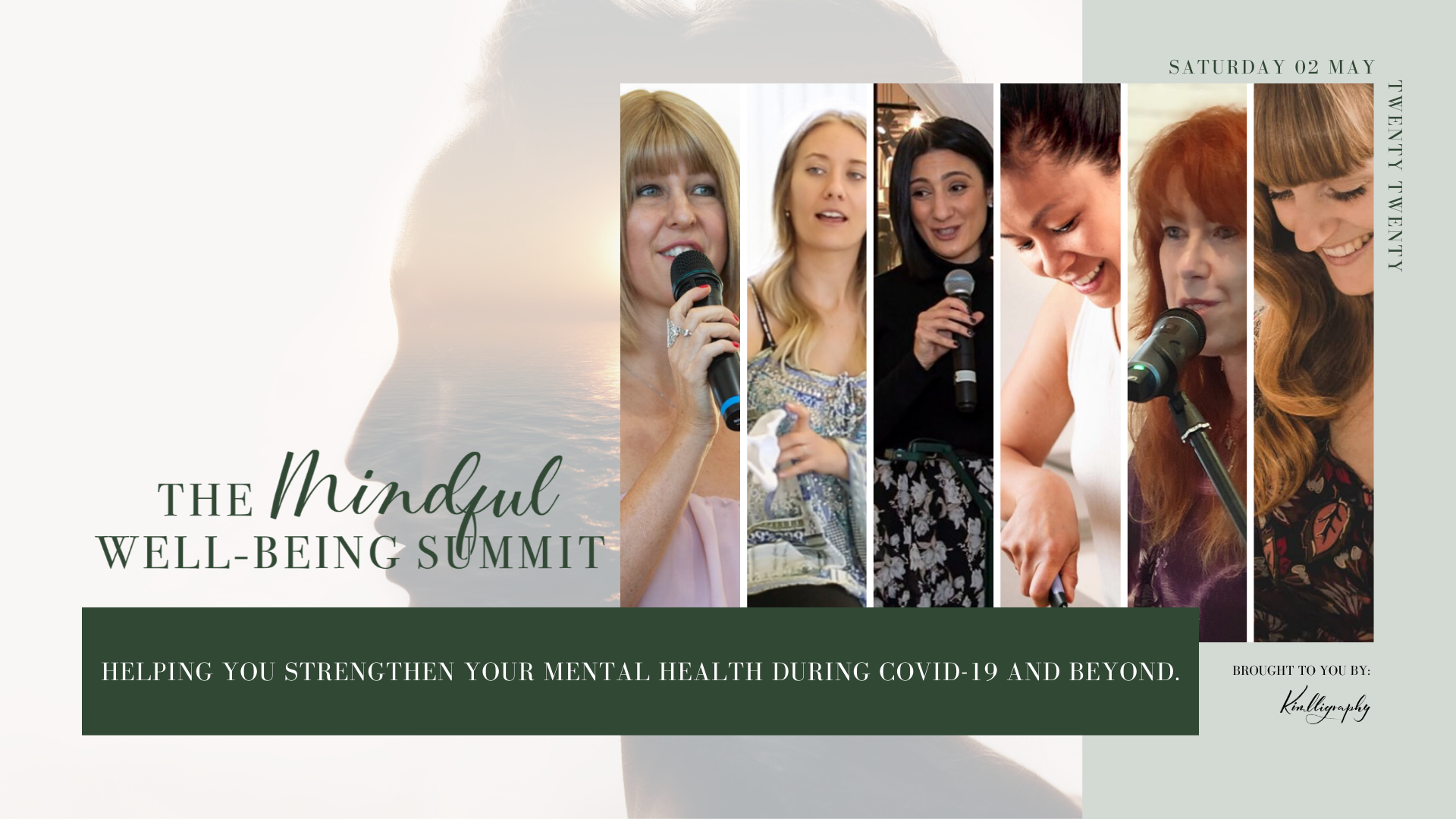 Lifetime access to the private replay of 'The Mindfulness Well-Being Summit' online event to help you strengthen your mental health and get into your creative flow during COVID-19 and beyond.
Here's what my students have achieved with Kimmunity:


> More confidence


> Get paid with their calligraphy skills


> Run their own calligraphy workshops


> Produce their own invites, cards, etc


> Develop their own unique style


> Worked with other businesses and big brands


> Commissioned their work


> Formed fruitful relationships with like-minded people


Here's what you're going to learn...


✅

 How to get started with Modern Calligraphy the right way


✅ The importance of getting into the 'Zen Zone' to tap into your inner creative genius


✅ Deeper knowledge on the tools, pens, nibs, paper, etc


✅ How to form the fundamental strokes


✅ How to write the letters in different variations


✅ Uncovering your own unique style


✅ Connecting the words that looks elegant and natural


✅ Overcoming challenges and issues you will encounter


✅ And much more!


What's Inside The Online Course


Includes over 30 video modules that you can watch and re-watch to improve your calligraphy skills each time!
You can also preview the first 2 modules for free.


✔️ 
Video -

Introduction
✔️ 
Video -

Getting Started
✔️ 
Video -

Getting Into The Zone
✔️ 
Video -

The Zen Zone
✔️ 
Video -

Mantras
✔️ 
Video -

Toolkit Intro
✔️ 
Video -

Pen & Nib
✔️ 
Video -

Paper
✔️ 
Video -

Nib Placement
✔️ 
Video -

Pen Holding
✔️ 
Video -

Suppliers
✔️ 
Video -

Left Vs Right
✔️ 
Video -

Guidelines
✔️ 
Video -

Fundamental Strokes
✔️ 
Video -

Warming Up
✔️ 
Video -

Fundamental Strokes (Part 1)
✔️ 
Pdf - Practice Sheet (Part 1)
✔️ 
Video -

Fundamental Strokes (Part 2)
✔️ 
Pdf - Practice Sheet (Part 2)
✔️ 
Video -

Fundamental Strokes (Part 3)
✔️ 
Pdf - Practice Sheet (Part 3)
✔️ 
Video -

Letters A-D
✔️ 
Video -

Letters E-H
✔️ 
Video -

Letters I-L
✔️ 
Video -

Letters M-P
✔️ 
Video -

Letters Q-T
✔️ 
Video -

Letters U-Z
✔️ 
Video -

Letter Variations
✔️ 
Video -

Connections (Words)
✔️ 
Video -

Practising
✔️ 
Video -

Resource Library
✔️ 
Video -

Comparisonitis
✔️ 
Video -

Ways To Use Calligraphy
✔️ 
Video -

Congratulations & Further Support


Bonuses
✔️ 
Video -

The Mindfulness Well-Being Summit (Part 1)
✔️ 
Video -

The Mindfulness Well-Being Summit (Part 2)



Would It Be Worth It?
↓
If All This Did Was...
...teach you the exact steps to get started and improve, giving you the confidence to create your own designs, wow your friends and even profit from having better skills instead of relying on your time and your own willpower that leads you to almost giving up...


...if you said 'yes' then this is the opportunity we're giving you...
READY TO JOIN?


LOCK IN THIS PRICE WHILE YOU CAN - IT WON'T LAST!


Kimmunity is a
special offer
and the price will be going up soon.
Don't miss out on this incredible opportunity to receive the right support and tools – and see your calligraphy skills (and even income) grow!
SO WHY SHOULD YOU TRUST ME?
- I've been through the journey from a hobbyist to a full-time calligraphy professional - in 3 years.
In school I didn't have a creative bone in my body. I failed my UAI. I didn't go to Tafe or Uni to study design or lettering. Yet my work was selected to appear on Typism Book 7, a community that showcases the best lettering artists around the world. Let me show you what's possible.
- I juggle between being a mum, wife and career lady
I know what it's like to have a very busy schedule which can get in the way of our creative endeavours. With Kimmunity you are not alone. You'll receive the inspiration and motivation to keep going and not give up.
- I'm an advocate for Mindfulness and Me-Time
My superpower is combining the art of Modern Calligraphy with mindful practice.
I've interviewed experts on my 'Mindful Creatives' podcast, been asked to speak at Mindful events and put together a widely successful Mindful Well-Being Online Summit (that you have access to)! These are highly beneficial since we live in such uncertain, chaotic times.
- I continue to work and partner with national and global brands and engage in various skillsets eg. Running workshops, servicing company events, engraving products, hosting international artists, etc.
Basically, I can open your eyes to the many possibilities of what calligraphy can offer.


I'm always a student and continue to improve on the art so I can give more back to you!
- I'm a down-to-earth gal, through and through.
I'm not the Instagram-perfect-type - what you see is what you get. I'm laid back, down-to-earth, enjoy the company of my family and friends and like a bit of a laugh.


Before calligraphy, I didn't have a creative bone in my body. I had awful hand writing and avoided art in school.


I'm living proof that you can do whatever you set your mind to. You have my support and I'll help you get there as fast as you can.
HERE'S WHAT YOU'LL GET WHEN YOU JOIN...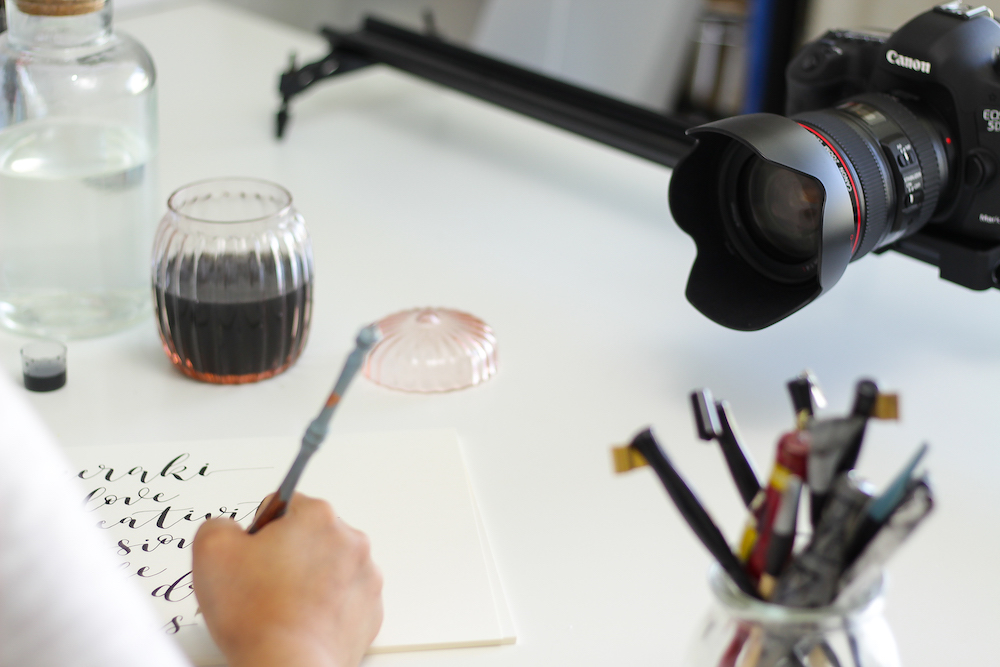 Starting with the online course with over 30 modules, you'll start on the right foot straight away.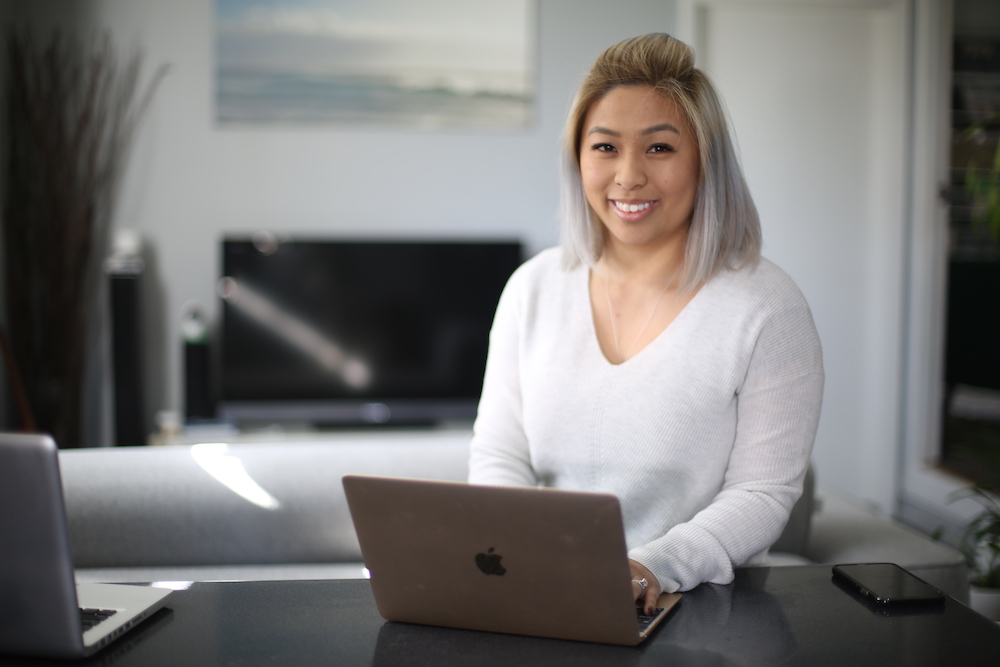 Receive the ultimate, personalised coaching support from Kim herself!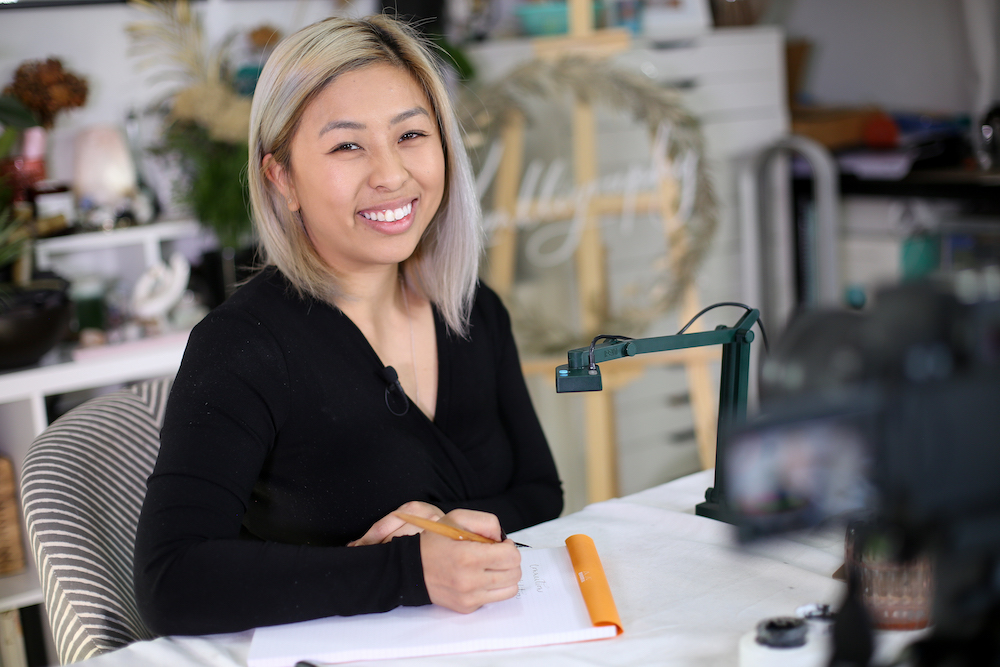 With the Premium package, you'll have a greater number of masterminds to attend to answer your biggest questions!
Kimmunity is ideal for you if:
✅ You have a passion in pointed-pen calligraphy but struggling to make time for it.


✅ You only know the basics of copying letters but don't fully understand the fundamental strokes and shapes to create letter variations.


✅ You want easy access to the right support and education to fast-track your success
If you are not committed to uncovering your creative potential in Modern Calligraphy and don't want the support of an expert and a like-minded group, Kimmunity is not for you.
MEET YOUR MENTOR, TRAINER & COACH


Discover How She Has Helped Hundreds Of Busy Women
Find Their Creative Flow, Be More Mindful and Start Businesses!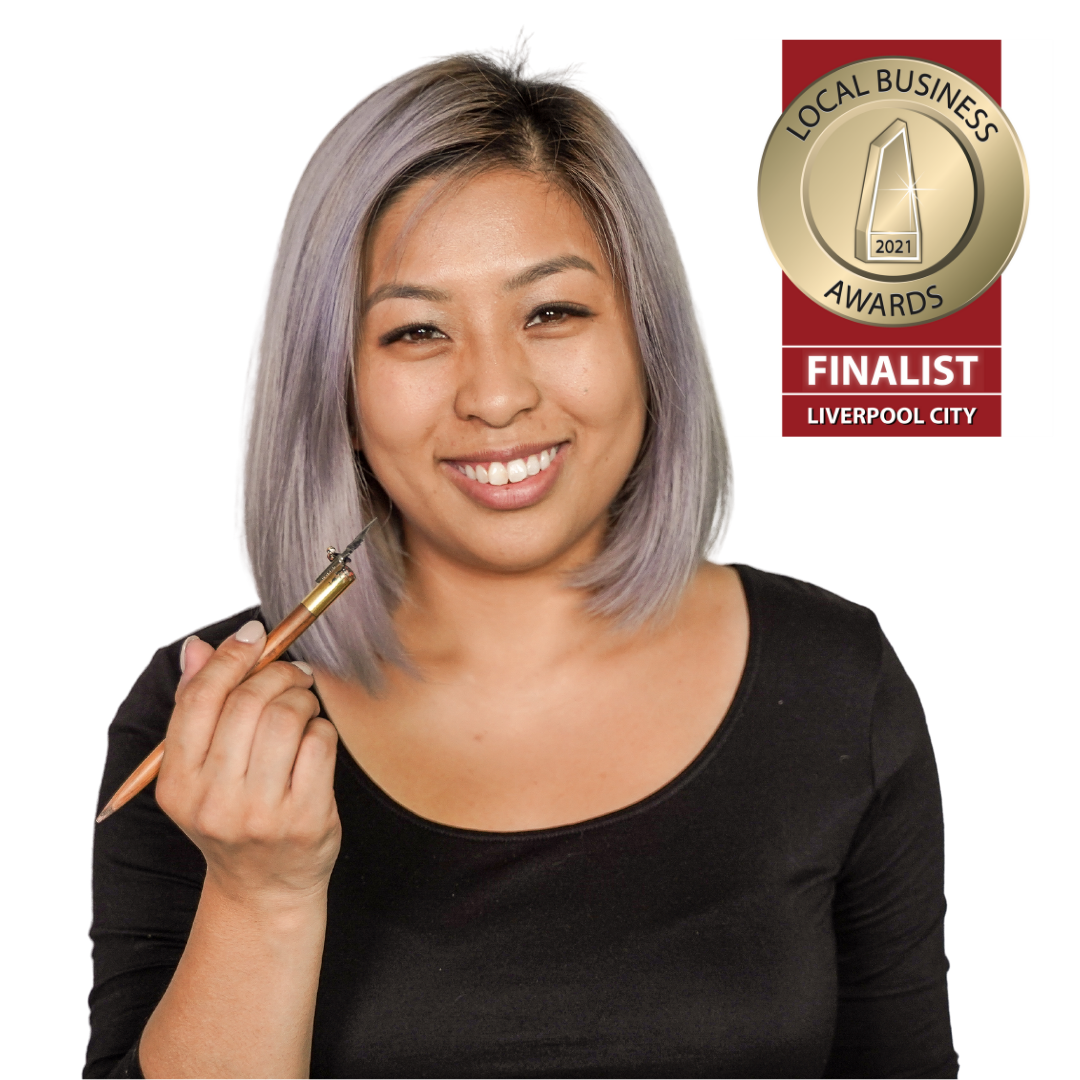 Meet Your Coach & Trainer
Kim Tran-Flores, founder of Kimlligraphy is a tea drinking, Modern Calligraphy artist and 'me-time' advocating ambivert with a passion in mindfulness.
Kim also founded Kimmunity, a members program that gives aspiring calligraphers a one-stop learning and coaching platform to take their Modern Calligraphy skills further than they ever imagined.
In 2021, Kim's work is featured in Typism book 7 that showcases some of the best lettering artists from around the world. A font company is soon to release her work as a font style that will be available globally.
Kim has worked with national and global brands like Tiffany & Co. and Westfield. She's appeared on radio and is a sought-after speaker on the topics of women equality and mindfulness practice.
Kim is renowned for her in-person Mindful Modern Calligraphy workshops for its world-class training combined with the 'Zen Zone' and a luxury experience that makes it truly unique.
Kim's mission is to help busy women reduce stress, receive the gift of the present moment and boost their creativity through Mindful Modern Calligraphy.
Here is a sneak preview of how we support and celebrate our students' progress and achievements online:
A High-Value, Low-Priced,
One-Time Commitment
No recurring monthly membership...Take advantage now before it changes!
MORE QUESTIONS? SEE ANSWERS!
Q. When can I start the program?
A. You can start straight away!
Q. For how long will I have access to the online course?
A. For a lifetime!
Q. What are the benefits of having more masterminds/group sessions?
A. Every individual's learning journey is different. To go from 'beginner' to 'intermediate' to 'pro' means you need consistent support behind you because no doubt you will have many more big questions along the way.
Q. What are the benefits of getting 1:1 coaching with Kim?
A. The fastest way to learn is to be coached by someone who 'has done it'. Compared to a group setting, Kim will tailor to your specific needs so you get the ultimate feedback.
Q. What else can I get beyond this package?
A. When you become a member, you will receive various options for support like extended mastermind sessions, 1:1 coaching, etc.
Q. I have some difficulty navigating through the site. What can I do?
A. If there are any issues you're having, please email us at [email protected] and we'll get back to you within 48 hours.
By joining Kimmunity, you're also helping the rescue and care for child victims of human trafficking especially disadvantaged young women.
Through our chosen charity, Blue Dragon, 100% of our monthly donations will also help them build self-esteem, self-confidence and realise their potential while creating long-term change for a better world.
Let's D
evelop Your Skills In
Modern Calligraphy, Inspire Your Creativity & Inject More Mindfulness Into Your Life!


We're going to do this together...
You follow the guidelines I send you, and track your progress...


SIMPLE RIGHT?! Let's Do This!